Nándor Götz was solo clarinetist of the contemporary music ensemble Musikfabrik in Cologne between 1994 and 2000. He performed in virtually every
European country as a soloist and chamber musician, including the Opera Garnier in Paris, the Teatro alla Scala in Milan, the Barbican Hall in London, as well as in the US, including the Lincoln Center in New York City, and Los Angeles. Besides concert performances, he also teaches masterclasses in Japan.  He was a guest artist with the Klangforum Wien in 1998 and 1999 at the Salzburg Festival. During Expo 2000 in Hannover he performed Mauricio Kagel's saxophone concerto "Burlesque" under the composer's baton.
He made studio and concert recordings with the Hungarian Radio, WDR Köln, Maison de Radio France, Paris, ZDF Zürich, Radio FIN, Hungaroton, and Kairos.
He has been composing and working on instrumentation since 1992. His crossover opera The Sword of Antonius was invited to the San Francisco Theater Festival. Since 2014, he has been leading the contemporary musical programmes of the Liszt Academy and the Bartók Conservatory.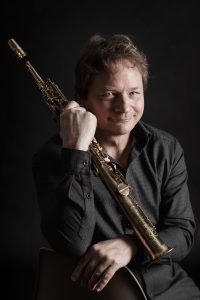 Nándor Götz – Art Director, concept owner