Dear Visitor,
Musical Budapest will start its 5th season of brightening the city's historic locations through the magic of music.
Over the years, this event has become an integral part of summer time in Budapest. The venues include the Musical Fountain at Margaret Island, the colonnade of the Kunsthalle, the stairs in front of St. Stephen's Basilica, the Castle Garden Bazaar, and the fantastic environment around Vajdahunyad Castle. Repertoires will be created for each location representing the history of the given building with the most beautiful pieces in musical history.
Due to its huge success, last year's original performance will be repeated: improvisation by painter students at the academy and jazz guitarists will take place at one of the prettiest locations in the city, the Savoyai terrace of Buda Castle, on Saturdays. This year, thematic locations will be added to the programme in the form of interactive concerts for children, young pop groups, sacred music, nostalgic melodies and world-class jazz performances. It makes us especially happy that the Hungarian National Museum and the Museum of Fine Arts also host concerts this year.
Our performers include members of prestigious groups and soloists, but it's also important to us to provide talented new generations with an opportunity to shine.
Today, the Musical Budapest event still remains a unique initiative in the world. It is a huge honour that we can organize such a valuable event every year and present our musical culture among the picturesque buildings of the capital.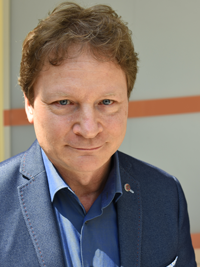 Nándor Götz – Art Director, concept owner
Nándor Götz was the principal clarinettist of the Cologne Ensemble Musikfabrik of contemporary music from 1994 to 2000. He has performed as a soloist and chamber orchestra musician in almost every European country (e.g. Opera Garnier in Paris, Teatro Alla Scala in Milan, Barbican Hall in London), as well as in the USA (Lincoln Center – New York and Los Angeles). In addition to concerts, he holds master classes in Japan. He was the guest performer with Klangforum Wien at the Salzburg Festival in 1998 and 1999, and performed Burlesque, a saxophone concerto by Mauricio Kagel, conducted by the composer at the Hannover World Expo in 2000.
Nándor Götz has made studio and concert recordings as well as albums with Hungarian Radio, WDR Cologne, Maison de Radio France Paris, ZDF Zürich, Radio FIN, Hungaroton and Kairos.
He has been involved with composing and orchestrating since 1992. His cross-over opera The Sword of Antonius was a guest presentation at the San Francisco Theater Festival.
Nándor Götz developed his concept of musical action painting at the Bartók Conservatory of Music. The presentations of his concept will be a striking new phenomenon of the 2018 season. These mini concerts will take place in front of the National Gallery.